Cloud applications
Organisations, both public and private, are turning to cloud computing applications, as they move their infrastructure to the cloud. Find out about SaaS and PaaS through news, features and expert advice. Learn how organisations are managing the complexity of hybrid cloud and on-premise applications, as well as private and public cloud applications.

Download this free guide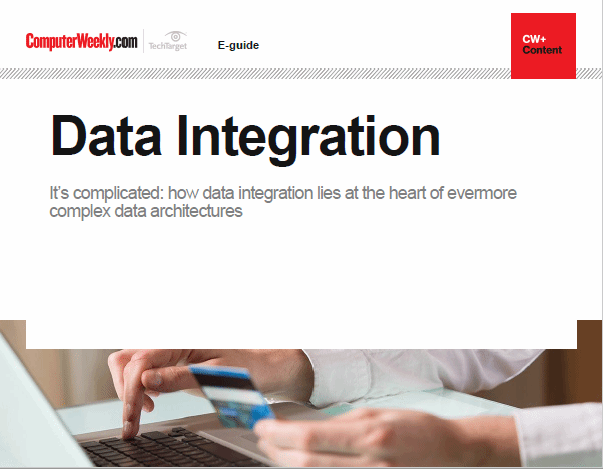 It's complicated: how data integration lies at the heart of evermore complex data architectures
Data integration and preparation remains the knotty problem at the heart of many data management and business intelligence programmes. Demands on IT leaders in user organisations – especially large, complex ones – are and will continue to be equally complex and pressing as boards look to get business value from data. Read more in this e-guide.
News :

Cloud applications
In Depth :

Cloud applications
In this buyer's guide, we look at the state of adoption of business intelligence and analytics tools, common use cases and other technology and business considerations Continue Reading

Many organisations look to the cloud to cut storage budgets, but the potential costs are many and varied. So what are the key ways to cut cloud storage costs? Continue Reading

We look at five options for file access storage, from 'traditional' NAS in a standalone appliance to distributed hybrid cloud file storage and NAS cloud gateways Continue Reading
Blog Posts :

Cloud applications
German software giant SAP has built an app to provide its employees and customers with accurate real-time information on Covid-19 and guidance on how to cope with the virus. Built on the SAP Cloud ... Continue Reading

"Wasn't cloud just another name for outsourcing back then?" joked another guest in a recent briefing, as our host explained just how long ago he'd joined his company's cloud division. We all ... Continue Reading

As I mentioned in my previous blog post, the time for digital transformation to happen has started to hit crunch time, and then some. I recently reported on an IT event in Central Londinium, an ... Continue Reading
Opinion :

Cloud applications
At the end of this year, the UK will no longer be subject to the EU's treaties, opening the way for it and the US to finalise a new trade relationship. Could the UK leave EU data protection standards behind? Continue Reading

Eleven obscure questions will be the first step towards explaining why we in the UK and Europe have experienced 13 years of what has been described as 'mass and indiscriminate surveillance' by the US Continue Reading

We may come to stop talking about 'remote' working altogether after the coronavirus pandemic. It could become just 'working' – part of the normal mix of how things are done Continue Reading
Videos :

Cloud applications
Mark Lockton-Goddard, former interim CIO, Drax Group, speaks to Computer Weekly about cloud maturity

By challenging AWS for public cloud business and adding SaaS modules for more specialized business needs, Oracle can legitimately claim to have a complete cloud offering.

Cloud computing and the internet of things will have a major impact on how security is implemented going forward.